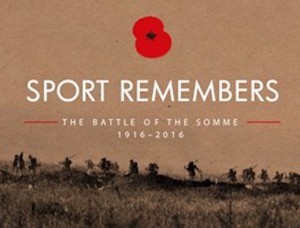 1916 saw one of the worst Battles in British history, that being the Battle of the Somme, by the end of the first day, 1st July 1916, 19,240 men had been killed in action and a further 35,493 were wounded. Like many professional clubs, Manchester City had several players who were serving on that day, and during that Battle, some paid the ultimate price with their lives.
Tommy Farrell, signed from Arsenal in 1905 and spend two seasons at Hyde Road, only making 3 appearance in that time, before moving on to Airdrieonians for another 2 season before moving back to Salford and played for Eccles Borough and retired from football in 1910. Tommy joined the Lancashire Fusiliers at the outbreak of war, and served with them at Gallipoli being evacuated from there in January 1916. By March 1916 Tommy was a corporal in the Lancashires and that month his battalion the 1st Lancashire Fusiliers had been moved forward into reserve on the Western Front.
On the 1st July, the Battalion had been tasked with taking tasked with attacking the fortified village of Beaumont Hamel on the Somme, when zero hour (7.30am) came. When zero hour came, they were under heavy and sustained machine gun fire from both Hawthorn Ridge, and positions immediately to their front and left flank.
Many of the Battalion were killed instantly in no man's land, Corporal Tommy Farrell was amongst them, his body was not recovered until November 1916 and laid to rest at Auchonvillers Military Cemetery, which contains 528 bodies. He left a widow, Frances, and three children, Tommy was 29 when he was killed in action.
Private Jack Yuill only had a short career with City, also playing for Stockport County and Oldham Athletic amongst others. On the 4th September 1914 Jack signed up with the Manchester Regiment, and completed his basic training at Heaton Park. As a member of the 19th Manchesters, and took part in the 30th Division's attack on the village of Montauban, and by mid-morning had achieved their objectives. On that day, Jack Yuill was promoted to the rank of Lance Sergeant, a battlefield promotion, and with his regiment was moved back in to reserve.
On the 7th July, the 19th Manchesters were moved forward to support an attack on Trones Wood and Maltzhorn Farm.  While digging in, the Manchesters came under sustained attack from German Bombardment and the 19th Manchesters had suffered 60 casualties during the action at Trones Wood, including one officer and 12 other ranks killed, Jack Yuill being one of those killed. Jack Yuill was 31 years old, his body has never been recovered and is remembered on the Memorial at Thiepval.
Julius Gregory, a Stockport born former Manchester Grammar School boy, started his professional career at Bury before signing for City. He would later play also for Brighton and Hove Albion where he was brought up on charges by the FA for in sighting violence from fans during a game, and had various disciplinary problems throughout his career.
Gregory signed up with the Royal Fusiliers in late 1914, serving with the 98th Brigade before being transferred to the 19th Brigade and moved up to the front on The Somme, 10th July 1916. On 20th July, the 19th Brigade took part in the attack on High Wood, where there was hand to hand combat, and the attack raged until the early hours of the 21st July. Around midnight, the 19th Brigade was withdrawn from the front line having sustained heavy casualties, Julius Gregory among them. Julius' body has never been recovered and remembered on the Thiepval Memorial and the Bredbury Village Memorial.
Patrick Maguire signed for City from Hurst FC, now known as Ashton United, having previously been an amateur with Manchester United, and played for City including the 1914/15 season. Patrick joined the Manchester Regiment at the culmination of the 1914/15 season, making some war time guest appearances for Grimsby Town. Patrick was posted to the 17th Manchesters and had taken part in the successful divisional attack on Montauban on 1 July 1916, but took heavy casualties. The 17th Manchesters also took part in heavy fighting at both Trones Wood and Guillement before they were withdrawn for a period of rest and reorganisation.
The 17th Manchesters returned to the Somme to take part an assault on trenches near the village of Flers on 12 October 1916. The attack was a costly failure for the Manchesters as they suffered heavy losses from machine-gun and heavy artillery fire, one of the missing in action was Patrick McGuire. This news was relayed to the people of Manchester by the Evening News, and while hope remained that he was alive, the report was later corrected to him being killed in action.
Patrick McGuire has no known grave and is remembered on the Thiepval Memorial, he is also remembered on the war memorial at St Chad's Church, in Cheetham Hill, he was 28 years old.
Paul Diggett.