Armani has been in touch to inform us that the ban on football activities has been lifted and at long last life is slowly getting back to normal.
The Sierra Leone FA are holding a 3 day Football Tournament for Premiership and Division One Clubs called "Kick Ebola out of Sierra Leone" which starts on Friday 21st August at the Sierra Leone National Stadium and MCFCSL will play Brokefield United kicking off at 7pm.
MCFCSL will be playing in their new City kits kindly donated by MCFC City in The Community and more photos will be posted here in due course.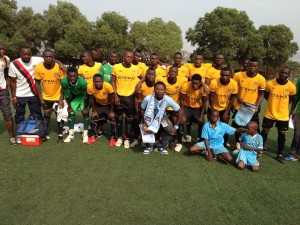 MCFCSL sadly lost 3 – 4 in a penalty shootout but all the lads played with pride for the Sky Blue shirt. It was not all bad news though as Ibrahim Makish Sesay got Man of the Match and has been selected for the Sierra Leone U17s